Head and Neck Surgery: Oncology 2023
The one-year Postgraduate Programme in Head and Neck Surgery: Oncology 2023 will start in March 2023 and will enable Oral and Maxillofacial Surgeons to acquire advanced additional training in the diagnosis and management of head and neck tumors, with the goal of enabling them to provide the highest quality care to patients with head and neck cancer.
This EACMFS Postgraduate Programme Head and Neck Surgery: Oncology is designed for Oral and Maxillofacial Surgery residents in their senior year of training or Oral and Maxillofacial Surgery specialists.
The Programme includes:
– a live online course, which will take place between 21st March 2023 and 17th October 2023 with one module scheduled each month. Every module will consist of two 3 hours webinars.
– a one-month clinical observership at a European surgical centre with specialised experience in head and neck cancer treatment chosen from the EACMFS Blue Book.
– a hands-on workshop on human anatomical specimens from the 5th to 6th October 2023, at the Center for Anatomy, Medical University of Vienna.
Upon completion of the Head and Neck Surgery: Oncology Postgraduate Programme, the participants will receive a Certificate issued by the EACMFS. Furthermore, an application has been submitted for CME UEMS EACCME® accreditation for the online learning course.
Applications must be submitted by 15 February 2023 to the Programme co-ordinator Ms Lidia Zaleczna (email: lidiazaleczna@eacmfs.org) in order to be considered.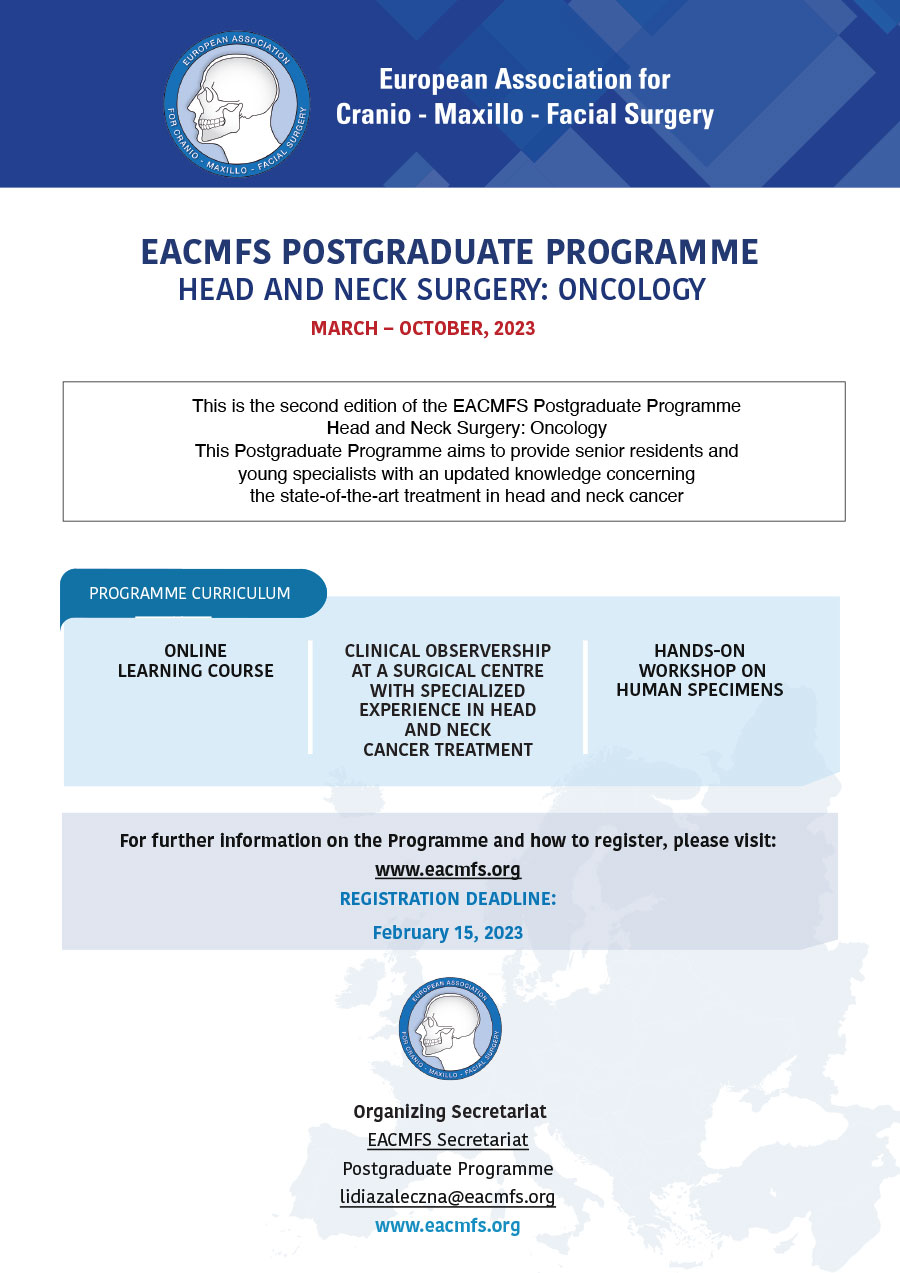 ---
Facial Plastic Surgery: Aesthetic & Function 2023
Detailed information will be announced soon.