Dear Colleague,
The European Association for Cranio-Maxillo-Facial Surgery (EACMFS) acknowledges the persistent and growing concern of the COVID-19 epidemic. Our thoughts are with all the families who are affected by this dreadful virus. There have been a few questions regarding how this will impact our 25th Anniversary Congress in September 2020. The health, safety and well-being of our members and attendees are of supreme importance as well as to provide the best quality of care to our maxillofacial patients.
The EACMFS Congress, September 14-18, 2020 in Paris, France, is still scheduled to happen. So far, there are no plans or discussions to cancel or postpone the Conference.
There are daily updates to the spread of this virus and of course, we are monitoring them.
At present there are severe travel restrictions in Europe and we will continue to monitor those as well. However, we do hope that the situation will improve sufficiently during the summer and want to reiterate that the conference is still scheduled to happen. We have received more than 1650 abstracts, which is not only the EACMFS record but also an important sign of confidence among our members. Thank you ! We are excited about all the educational and social offerings this meeting will provide. Registration details and more information can be found below:
http://www.eacmfs-events.com/eacmfs2020
With best wishes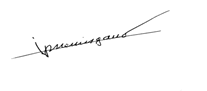 Prof Jean-Paul Meningaud
President, EACMFS