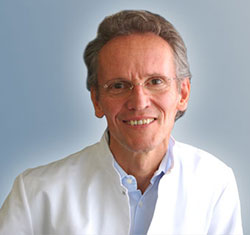 Dear Colleagues and friends,
In September 2016, we experienced one of the most successful Congresses of our Association ever: about 2000 participants from all over the world enjoyed an exciting scientific programme which mirrored the enormous spectrum of our specialty, and many achievements EACMFS has made during the last years became obvious. We have to thank past President Ian Martin, his team and all organisers for this unforgettable event.
Now, with fresh motivation and stimulated by the London Congress, I am ready to perpetuate the tradition of our biannual meetings. With gratitude for holding presidency and devoted to our Association, I cordially invite you to Munich in September 2018. Together, we will put another milestone on the way to success, focussing on the most important instrument to let grow and further improve our Association: multiplying knowledge by sharing it with each other.
Despite the rapid development our specialty has gone through, still many challenges can easily be identified when we are looking ahead: we are in permanent competition with our neighbour disciplines, and as a result of increasing age and multiple comorbidities, standard treatments may often not be an option . Therefore, we can only succeed with a broad and fundamental training of surgical techniques in all fields of our huge specialty. Moreover, for proper therapy planning, evidence base, up to date knowledge about best treatment strategies is mandatory. Finally, as a scientific association, we have to provide sustainable input into research, as this has always been the source for therapeutic success. To document our will to push forward the prosperity of our specialty, the slogan of the 24th EACMFS Congress will be: Facing the future.
To meet with our most important aims of education and harmonisation, a major aspect of our meeting will be to consider the teaching character in each session, based on the best available evidence and the vast experience of key note speakers from all over the world. Already now, leading representatives have been invited who will communicate their valuable knowledge and ideas about trend setting developments in the future. The Congress will also be a platform for guest societies, who are invited to contribute to the programme with high quality papers.
Because many important questions can only be answered by prospective multicenter studies, the foundation of a European study group would be an attractive project for 2018; I am convinced, that the European countries together can be powerful enough to successfully conduct such studies with numbers of patients a single nation can never achieve. More information about this project will soon be available on our website.
Munich is an international, cosmopolitan metropolis and situated in the midst of a beautiful pre-alpine countryside with an excellent infrastructure and one of the largest airports in Europe. The venue of the Congress will be The Gasteig, centrally located with excellent public transport access and in walking distance from river Isar and many sights, restaurants and the beautiful old town of Munich. Thanks to excellent cooperation with our PCO Torres-Pardo with the local Co-PCO boeld – communication, the Congress will be perfectly organised. Room reservations at affordable rates have already been made in attractive hotels, all located directly nearby, and an exiting social programme has already been put together: A Congress opening with the Munich Philharmonic Orchestra, courtesy of The Gasteig, the Trainees networking event at one of the beaches, as well as separate events not included in the Congress activities: a traditional float tour down the river Isar, followed by a typical Bavarian evening in the famous Hofbräuhaus, and a festive dinner in the old City Hall. And for the sportive colleagues: a run through "Englischer Garten". In addition, a special highlight is waiting for those, who want to extend their stay in Munich a little bit: The worlds largest fair, the Munich Oktoberfest will start the day after the end of the Congress.
I am convinced, the program will provide you with new information, a better knowledge in the field of your interest, and ideas how to improve your results – and it will be a stimulus to further harmonise our medical standards and to successfully compete with our neighbour disciplines. Exchange your expertise with more than 1500 specialists in CMF Surgery and mark your calendar:
EACMFS, 18.-21. September 2018: Facing the future – together in Munich!
Yours
K.-D. Wolff